Featured Item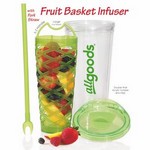 20 Oz. Fruit Basket Infuser Tumbler
Fruit Basket Infuser double wall acrylic Tumbler with fork straw. Bring out the best in your company's presentation and logo. Great for High Schools, Colleges, Cheerleading Camp, Dance Studios, Sport ...

Why Choose Alpha Apparel?
At Alpha Apparel and Promotions, we strive to provide extremely attentive and personal service. We're a family-owned business and customer satisfaction and quick response times are our highest priority
In addition to our personal service, we can offer one-stop shopping for all your promotional product
needs, and low or no minimums on many of our items.We stand behind our products and service, and we'd
love for you to give us a try for your next print, apparel, or corporate branding product.
Have you ever been frustrated in your search for a great promotional item? Was your last order from a nameless, faceless promotions company with sketchy customer service and slow response time? If so you've come to the right place, read what our customers say about us here!